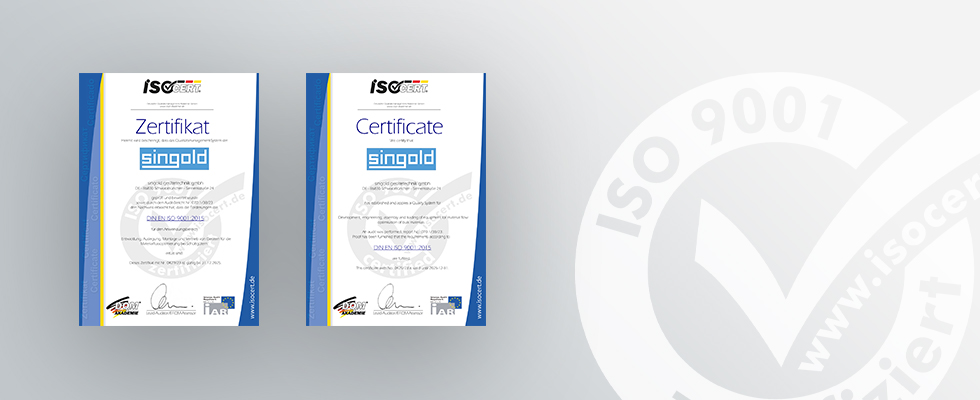 singold receives ISO 9001:2015 certification
The Deutsche Qualitätsmanagement Akademie GmbH has recently certified singold gerätetechnik GmbH that its quality management complies with the requirements of DIN EN ISO 9001:2015. Requirements for the areas of application development, design, assembly, and sales of devices for material flow optimisation for bulk materials were tested and evaluated.
"We are very pleased that our successful efforts to achieve the highest quality at all business levels have now been confirmed by an external body through the ISO certification," says Managing Director Oliver Lüer. "For us, this is an incentive to optimise all processes from development to sales even further."
DIN EN ISO 9001:2015 is the national and international standard for quality management in companies. Companies with this certificate are recognised for their constant efforts to achieve high-quality products and services. Customers of ISO-certified companies can rely on the fact that company processes are strongly customer-oriented, products meet the highest quality standards and service is always punctual and reliable.
"The needs of our customers are always our focus, and we therefore work continuously on our quality management. With the ISO certification, we have now been able to officially confirm the consistent alignment of our processes with current market requirements," says Matthias Hofmann, technical manager at singold gerätetechnik GmbH. This is of great relevance for the strategic further development of the company, especially in connection with regard to its increasingly international orientation.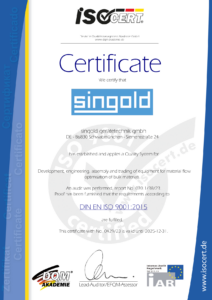 We optimise your material flow
Contact us
Taking your individual situation into account, we are happy to assist you.