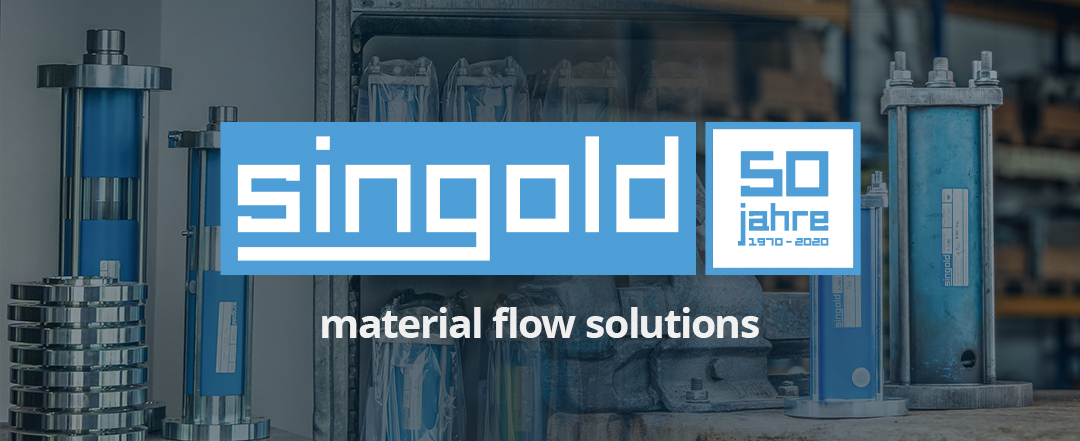 Foundation and early years
In 1970, Dipl.-Ing. Erwin Lüer founded the company "singold gerätetechnik" in Hiltenfingen. The lack of suitable devices for bulk material plants led him to design and manufacture them himself.
Erwin Lüer invented and developed the world's first pneumatic knocker of its kind. Patents were granted for both the singold gerätetechnik Pneumatic Knocker and Flap Shutter in the early years of operation. Even today – more than 50 years after their introduction – singold's pneumatic knockers are the most efficient on the market.

The company's name and logo is taken from the Singold: a small, fish-rich river, which flows right across our premises. The brand is registered and protected as a European Union trademark at the EU Intellectual Property Office.
Relocation and further successes
In 1980, singold gerätetechnik moved to Schwabmünchen, south of Augsburg, into a new building constructed especially for the company. Since 1986, the company has been run under the legal form of a GmbH (limited liability company). In the same year, the highly specialised Double-Flap Sluice for Thyssen AG was delivered for the first time. This was followed in 1992 and 1996 by special designs for other major customers, some of which are still in operation today.
In the mid-1990s, singold gerätetechnik gmbh switched to modern 3D CAD software and again expanded the business premises including the warehouse.
In 2020, a special version of the Distance-Knocker QJ for the metallurgical sector was launched. In 2022, business activities focused on the mass rollout of the world's largest and most powerful Pneumatic Knocker K160 in North America.
singold gerätetechnik gmbh today
Today, the business is run by Roswitha and Oliver Lüer, and the technical director is Matthias Hofmann. The best-selling products of singold gerätetechnik gmbh continue to be the pneumatic knockers, of which several tens of thousands have been sold to date. The product portfolio of pneumatic knockers in various sizes, strengths and designs is supplemented by pneumatic distance-knockers, knocker accessories, flap shutters, double-flap sluices and rotary valves. International sales representatives on-site continue to develop the potential in Australia, Israel, Great Britain, Eastern and Northern Europe, South Africa as well as Switzerland and offer customers the advantages of an expert contact directly in their region.
singold gerätetechnik meets the highest standards in quality management and customer-oriented processes. This has been confirmed by the DIN EN ISO 9001:2015 certificate.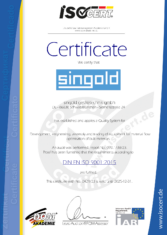 Everything from a single source
At singold gerätetechnik, the maxim is everything from a single source. One contact person accompanies the orders from planning, quotation preparation and order processing to production and dispatch. The experts at singold gerätetechnik are happy to advise customers on individual issues to find the optimum solution for their respective company's situation. Responsible employees in a well-coordinated team stand for high quality, personal customer care and reliable service.
We optimise your material flow
Contact us
Taking your individual situation into account, we are happy to assist you.