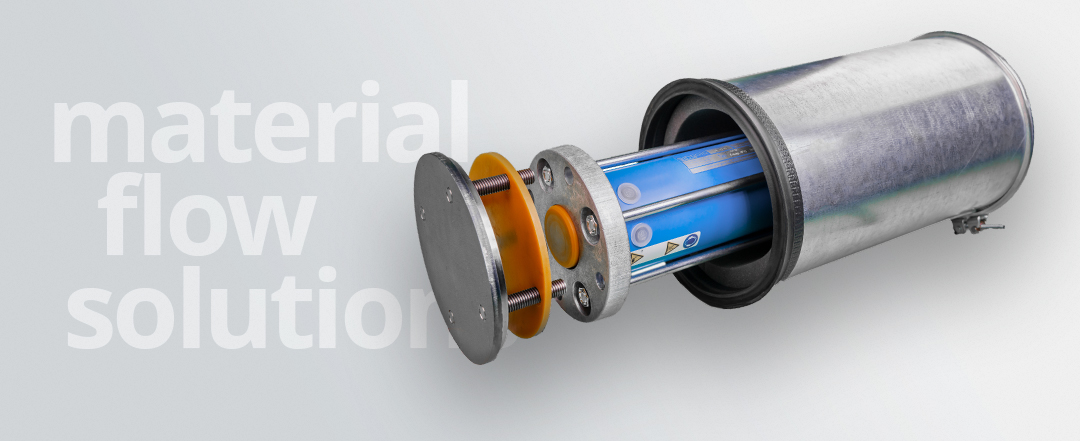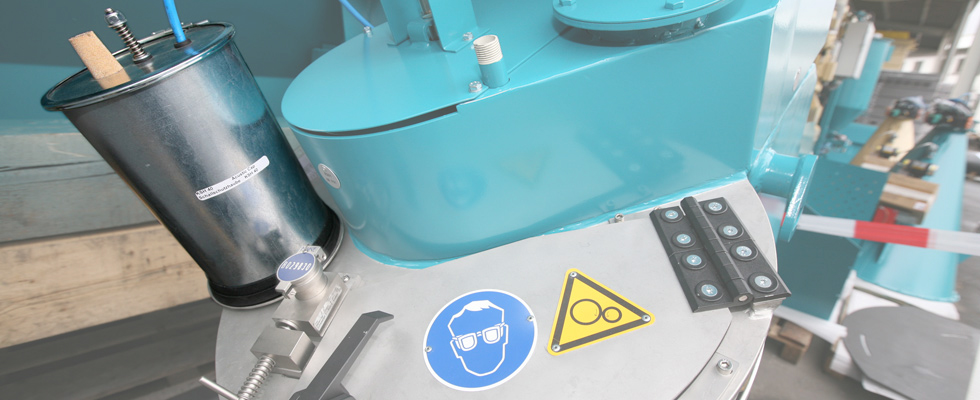 Sound Insulation Measures
– Knockers Type K
Is an effective knocker a loud knocker? Not necessarily. To address the adverse health effects of excessive noise in the workplace, we have developed various options for soundproofing. The most suitable one for you depends on your particular workplace. We would be happy to advise you!
Topic sound insulation in our news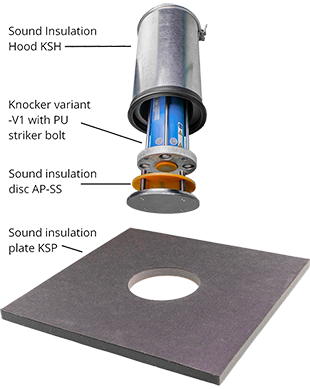 Sound insulation hood / protective hood – KSH
The sound insulation hood KSH is simply slipped over the knocker and screwed onto its middle bolt. The impact force of the knocker can be used without restriction – only the noise level is reduced. The contact surface of the hood adapts flexibly to the contours of the silo using a protective rubber edge. The sound insulation hood is equipped with a rubber feed-through for the compressed air hose and with silencers for the rinsing air. Another advantage of the sound insulation hood: it protects the knocker from corrosion in harsh conditions.
Sound insulation plate – KSP
In addition to the sound insulation hood, we offer a sound insulation plate. It is placed over the sound insulation hood KSH and adhered to the outer silo wall. The sound insulation plate insulates the sound radiation without damping the vibrations generated by the knocker. The impact force of the knocker is therefore not affected by the sound insulation plate. The sound insulation plates are available in different sizes. Larger areas can be supplemented with sound insulation plates SP made of the same material.
Striker bolt made of vulkollan – K***-V1
Our pneumatic knockers are among the strongest on the market and full impact is not always required. If a limitation of the impact force of the knocker is acceptable, the knocker variant with a striker made of PU is a good option. The rubber-elastic material reduces noise considerably.
Sound insulation disc made of Vulkollan – AP-SS
Our sound insulation disc AP-SS can also be clamped between the weld-on plate and the knocker. In this case, too, the rubber-elastic material ensures that the noise level during operation is significantly reduced.
We optimise your material flow
Contact us
Taking your individual situation into account, we are happy to assist you.