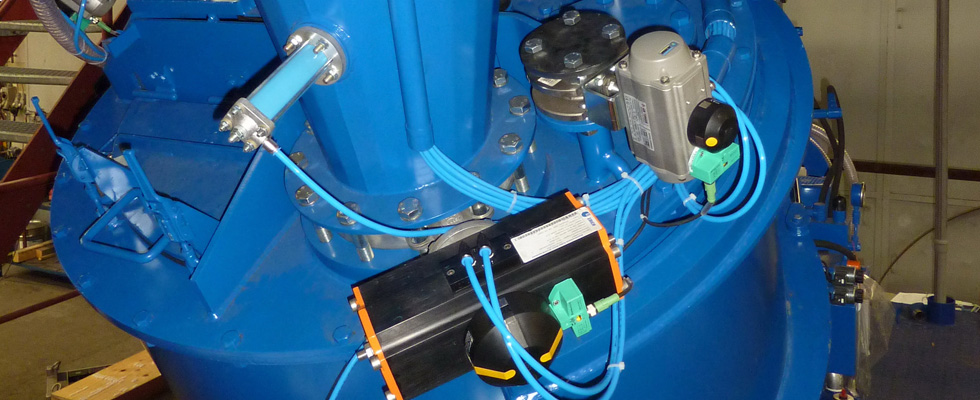 Pneumatic knockers from singold: always at the right frequency
Erwin Lüer, founder of the company singold gerätetechnik gmbh, invented and developed the world's first pneumatic knocker of its kind. Even today – 50 years later – they remain the best performers in the market.
Pneumatic knockers resolve disruptions in the material flow by causing the silo outlet to vibrate.  The pneumatic knocker is always effective, when a hand hammer can reestablish the flow of the product.The pneumatic knocker is very gentle on the silo wall and avoids dents that would lead to further problems with the material flow. 
How the pneumatic knocker works
The pneumatic knocker achieves its high rate of impact power through spontaneously released energy stored in the form of compressed air. The percussion piston, designed as a permanent magnet, adheres to the anchor plate in the resting position. When the supplied compressed air overcomes the magnetic force, the percussion piston detaches from the anchor plate and is greatly accelerated at a speed of 6 to 7 m/s.  The percussion piston hits the striker; the striker transfers the impact to the silo wall.
After the compressed air has escaped, the spring pushes the piston back into its original position.
The big advantage over vibrators: There is no imbalance; the pneumatic knocker creates an elastic shock.
The cycle times are 5 to 20 seconds. The cycle intervals should not be too short, otherwise there is a risk that the bulk material will compact.
The right knocker for every container
singold gerätetechnik gmbh offers the pneumatic knocker in six sizes.  The right size depends on the thickness of the silo wall. singold gerätetechnik gmbh offers six pneumatic knockers which cover wall thicknesses from 1 to 25 mm.  The number of knockers and at which points of the silo that they are to be ideally installed, should be assessed individually depending on the discharge situation.  It is recommended, for example, that rectangular containers have at least two knockers. They are attached to the two flatter sides and operate interchangeably.
The pneumatic knocker can be effective in a multitude of application situations and is therefore available in different materials and designs with a temperature resistance of up to 140 °C.
For slowly rotating drums, hot walls and filling or emptying stations with changing containers, there is a variant of the pneumatic knocker, the QJ distance knocker.
Accessories for sound insulation
Damping the impact of the pneumatic knocker for reasons of soundproofing would reduce the effectiveness of the impact.  It makes more sense to use suitable sound insulation hoods, self-adhesive sound insulation panels for the container wall or sound absorbers for the vent holes of the solenoid valves.
We optimise your material flow
Contact us
Taking your individual situation into account, we are happy to assist you.