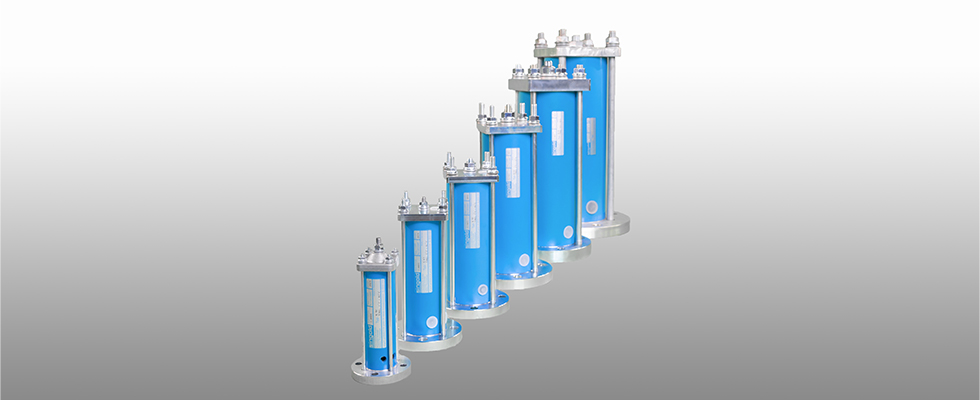 Our wide range of variants: The ideal knocker for every system
Just as the application scenarios for pneumatic knockers are diverse, so too are the requirements. Whether high temperatures, special hygiene requirements or very large silos, singold gerätetechnik gmbh offers a wide range of pneumatic knockers so you'll have no problem finding one perfectly suited to your specific needs.
Application temperature is crucial
The most important factor in selecting the optimum knocker is the application temperature. For temperatures up to 60 °C, a standard version with a plastic piston can be used. For applications above 60 °C, the piston is made of aluminium. Cover and anchor plate, tube and striker are made of aluminium, steel or stainless steel, depending on the individual application situation.
The pneumatic knocker can even be used with wall temperatures of over 140 °C. A T-shaped welding plate to increase the distance to the hot wall, a heat-dissipating plate and a heat insulation plate are available as accessories in this case.
Steel or stainless steel for special challenges
Even if the application temperature is below 60 °C, steel knocker models may still be the most suitable due to their resistance and durability. This applies to working areas with aggressive types of dust or vapours, such as the fertiliser industry, or if the knocker is to be used on different containers.
For plants with increased hygiene requirements, singold gerätetechnik gmbh produces knockers in which all external parts are made of stainless steel.
When direct mounting is not possible: Distance knockers
If a classic pneumatic knocker cannot be mounted due to movement or high temperatures, the Pneu­matic Distance-Knocker QJ is an alternative. Depending on the size, it bridges a distance of 25-35 mm to a container or a rotary drum. This makes it ideal for filling and emptying stations with changing containers, slowly rotating drums and hot walls. The piston rod is available without thread, with external thread and with internal thread, as well as in an extended version, allowing the distance of the knocker to be selected as high as possible for high-temperature walls. Versions free from non-ferrous metal are available for the metallurgical industry. Learn more about our distance-knocker here.
Models to improve sound insulation
To improve occupational safety, models with strikers made of the rubber-elastic material Vulkollan are available. In addition, noise emissions can be reduced with special noise protection hoods.
Special designs according to customer requirements
The experts at singold gerätetechnik gmbh will be happy to assist you in selecting the optimal knocker model for the respective application situation. In addition, our engineers are happy to respond to other customer requests in a flexible manner. Special designs are also possible.
We optimise your material flow
Contact us
Taking your individual situation into account, we are happy to assist you.